Flax : A Clean Matter
Jos Vanneste - European Flax
Uniquely European
Cultivated at close-proximity, flax is grown in a wide coastal band of Western Europe stretching from the South of Normandy in Northern France through Belgium and the Netherlands : from Caen to Amsterdam. The only plant textile fiber originating on the continent, European linen cultivation cannot be relocated, its excellence is thanks to a unique combination: a natural, damp ocean climate, flax's low thermal density, a rich soil and the experience of flax growers.
An unusual Industry
10 000 companies in 14 European Union countries are involved in the linen industry. Flax cultivation has a unique role in the agro-industial industry.

From plant to finished fabrics, all stages of production and transformation are represented and different professions in the industry work together from growers and scutchers to spinners, weavers, knitters, finishers and traders.
N°1 Worldwide
80% of the world's production of scutched flax fibers is originated from Europe, and France is the world leader. Flax is a rare product which represents less than 1% of all textile fibers consumed worldwide.
KNOW-HOW AND TECHNOLOGY
Linen, a human adventure
Overseeing the plant's evolution, adapting to unpredictable weather conditions and choosing the precise moment and day for each action are keys to a successful harvest. These factors rely on the well-informed decisions made continually by growers and scutchers. Their collaboration is vital to optimize each harvest.

This know-how and complicity is typified by the men (and women) involved at all stages of transformation from plant to fiber.
Linen at the forefront of innovation
After centuries of handcrafted traditions which included home workshops and hand-weaving, the linen industry took a decisive step in the early 19th century when the spinning machine, developed by Philippe de Girard in 1810, brought linen into the modern era.

Second skin lingerie, tulle, spidery laces, honeycomb weaves, linen piqués, waterproof outdoor linens … Curious? Find out about the many facets of this 21st-century fiber.
Linen ECO - system
100% Eco-responsible
A true « carbon well », each year one hectare of flax retains 3,7 tons of CO₂. And this is not the least of its « green » advantages. Flax has proven itself as an excellent break crop: renewed in rotation every 6 to 7 years, flax naturally produces optimal soil quality, thereby increasing returns on the following crops..
We see its ecological consciousness throughout the industry. Mechanical activities are a part of each operation in its transformation – scutching, combing, spinning, weavin.
100% Sustainable development
Counting all stages of production, the European linen industry is made up of 10,000 companies in 14 countries of the EU: a network of interactive professionals – growers, scutchers, spinners, weavers, knitters, finishers, traders.

Linen helps maintain an economic and social fabric in rural zones. Its growth and transformation require a large, qualified, local work force. The Linen industry is committed to respecting the laws of the International Labor Office.
100% Natural
« Flax cultivation has positive effects on eco-system diversity and offers a welcome environmental pause for soil quality, bio-diversity and landscapes » (Source: Advisory Commission Report to the European Parliament, Brussels, May 20, 2008).

A « militant » plant that respects the environment and preserves the land – as well as the surrounding plants and wildlife – flax protects the soil and water resources: it needs 0 irrigation (rain water is enough to grow it) and very little input (fertilizer and phytosanitary).

Environmental excellence: organic flax cultivation. Flax is also grown on organic converted farms. Its culture is certified without synthetic products (fertilizers, herbicides, fungicides and regulators are prohibited), which ensures a complete absence of residues of these products in the fiber and the soil after harvesting. Today, nearly 200 acres of organic flax are grown in France and international specifications ensures the traceability of fibers from organic flax cultivation to final consumer (GOTS label).


333.000 tons of stocked CO₂, or 3.7 t/ha : (average calculated over the 2004/2011 seasons in FR, BE & NL – Source C.I.P.A.LIN, A.B.V and C.V)

342.000 t of CO₂ greenhouse gas emissions avoided

38.000 t of petrol equivalents economized

650.000 millions cubic meters of water would be consumed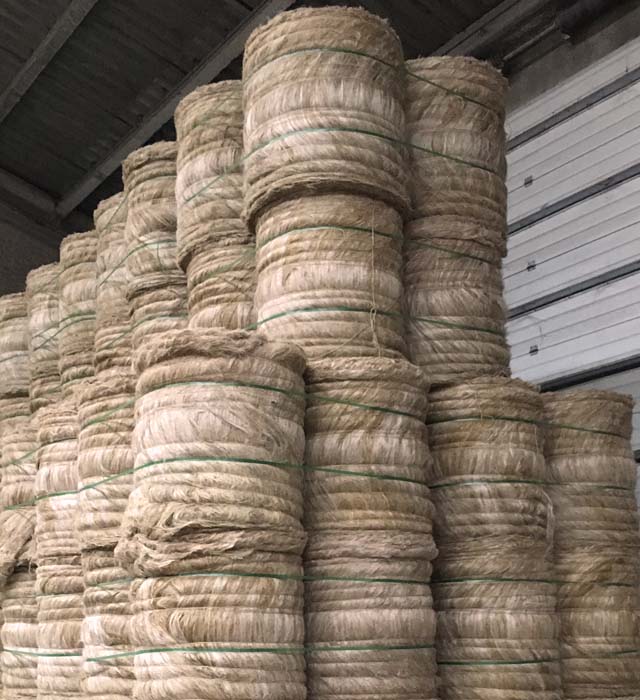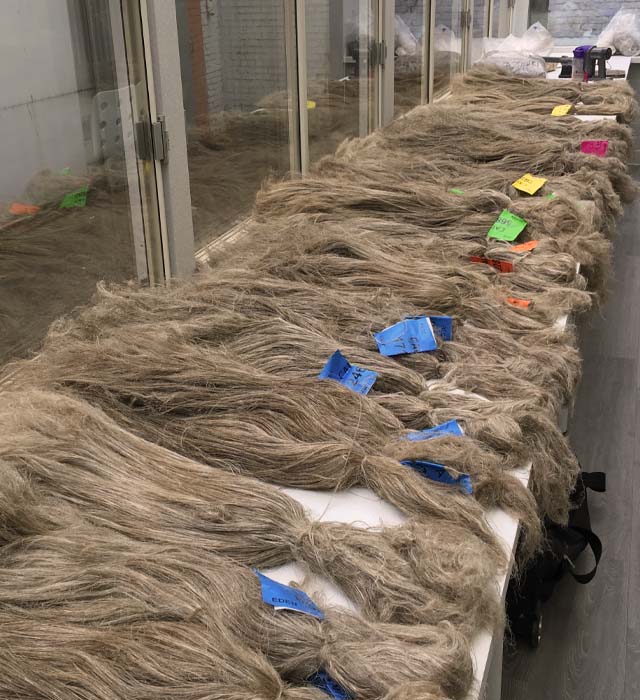 Well-being and naturalness
Flax fibers are known for their great ability to absorb water. This is due to a high amount of pectins, the components that hold the fibers together. Pectins in linen textiles give them a «lively», heat-regulating quality. Depending on the weather, they can retain water or repel it - up to 20%* of their weight - without feeling damp to the touch. A guaranteed sensation of well-being.

Supple, relaxing linen sheets are comfortable for sleeping and encourage regular sleep cycles. Linen is an intrinsically hypo-allergenic, anti-bacterial fabric with a soothing hand: inherent properties that have been known since the Middle Ages to help people with skin problems.

*Source Arvalis – Institut du Végétal
Creativity and naturalness
A versatile fiber, ideal for all uses and easily associated with other fibers, linen can be used in all densities from ultra-light, transparent batiste to the heaviest canvases. It is at the heart of textile innovations thanks to skilled European spinners and weavers who modernize its hands, finishings, coatings and textures to keep abreast of trends running from casual to sophisticated … there is even a water-resistant version of linen for outdoor use!

As with all fibers, those in linen are categorized by metric numbers (Nm). This reference corresponds to the number of kilometers which can be made with 1 kilogram of fiber. The higher is the number, the thinner is the fiber. Fine linens can go all the way to Nm80 = 80,000 meters of fiber =1 kilogram of fiber.
High performance and naturalness
Flax fibers are long! Length: a structure unique to xylem fibers (those contained in the plant stem, not the flower) which make linen textiles supple and resistant without pilling or becoming distorted.

In terms of technical opportunities, linen's rigidity for both tensile strength and deflection or its resistance to breaking, twisting and compression make it useful in the conception and manufacturing of composite materials as an alternative to glass fibers. Linen absorbs vibrations, we see it today in high-performance sport equipment (bicycles, tennis rackets, skis…).
Planting
- The 100 days of flax
 -
Planted between March 15th and April 15th, the seed takes 100 days to grow and reach 1 meter when it flowers.
Flowering
- June -
Though the Linen flower only lives a few hours atop its supple stem, all flowers in a field do not bloom on the same day; This is what gives the landscape a delicate blue color for a few weeks, moving like an Impressionist sea in the wind.
Harvesting
- July -
We don't reap linen, we pull it up! It is pulled up when the leaves have dropped off the bottom third of the stem. The plants are then placed in swaths of cloth (one-meter wide linen sheets) which give the field a graphic beauty. The capsules holding the seeds take on a brownish-yellow color.
Retting
- August -
The first phase of transforming the plant to fibers: Mother Nature takes over. Sun, dew and rain help detach the fibrous skin from the central wood, the stems take on a beautiful russet hue. Then comes the time for gathering.
Visionary technical innovation
An enlightened participant in terms of our era's ecological demands, linen plays a role by applying new European standards.
---
By 2020, all buildings constructed in France must have a positive energy assessment (Grenelle for the Environment, 2008) = technical linen fabrics associated with resins are used for « high-performing » composite products (resistant, insulating window casements, acoustic, thermal particle boards, wool insulations, under-layers for wood floors, inner roof protection).

In the context of the Euro 5 Law (European Commission), all cars sold in Europe must be recyclable (85% of a car's parts by 2012, 95% of a car's parts by 2015) = linen combined with recycled polypropylene is increasingly used by automobile makers for door panels, dashboards (ex: Jaguar, Mercedes, Smart …).

Created in 2009, The European Scientific Committee helps manufacturers or company R&D department progress by using these new technical opportunities.