N.V. JOS VANNESTE S.A. is located in Kortrijk neighbourhood, the historical world center of the flax industry. The family business is currently run by the fourth generation of Vannestes : Alex Vanneste.
Cottonised Flax
We are modifying (shortening and refining) the long-staple flax and tow into a fiber with the characteristics of cotton, a artificial or synthetic fiber that is suitable to spin on the short staple ring or rotor spinning system.
Flax Tops
We are certainly the only linen tops supplier offering dyed colors. More than 40 reactive dyed shades are available from stock.
Long & Shorts Fibers
For a good customer understanding on the origin of the fiber and to give them a full "lot passport", we are very transparent on the traceability.
Flax Yarns
All our yarns are spun with European flax selected in the best growing areas in France, Belgium and Nederland. The selection of the long fiber is done by Mr. Alex Vanneste, directly in the farms and the scutching factories.
Production of premium linen fibers
Jos Vanneste nv is internationally renowned for the production of his cottonised flax fibers, flax tops, classification & distribution of long and short staple flax and sells of various counts of 100% linen yarns. This is the results of the company's optimism, dynamism and know-how since 4 generations. A monthly capacity of 600 tons of cottonised flax, 1500 tons of long fiber classification & distribution and 70 tons of yarn selling allow highly appreciated just-in-time deliveries all over the world.
Cottonised Flax Fibers
---
Jos Vanneste stands for "consistency", "flexibility" and "volume" in supply of Cottonised flax through 70 years of experience, a capacity of 600 tons/month produced over 6 individual production lines
Flax Tops
---
Jos Vanneste produces around 100 tons/month of flax tops for wool and fancy yarn spinning systems. We supply natural, bleached and even dyed combed tops selected out of best quality "European Flax"
Flax Yarns
---
Based on our previous spinning activity Jos Vanneste continues the distribution of grey, bleached, dyed and twisted linen yarns carefully sourced from partner spinners with whom we trade our "European Flax"
Technical applications with Flax Fibers
---
Jos Vanneste adapted, adopted and improved Flax fiber production also for paper-and automotive industry. Through our "consistency" we successfully grow and develop in those innovative industries.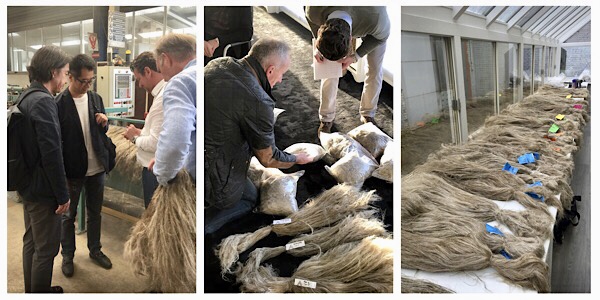 Classification & Selection of Long & Shorts Flax
---
Jos Vanneste aims to be your reliable, professional and transparent link between the agricultural world of growing and scuthing and the industrial textile chain which starts with the spinning of our "European Flax"
Flax: the 100% sustainable, eco-friendly fiber
---
Jos Vanneste is proud to work and supply The most durable, natural quality fiber. Flax is at the forefront of innovation as well in Fashion & Decoration, Paper & Automotive Industry
Secrets of Linen
Exclusive custom-made rugs with personality
Our worldwide partners
Jos Vanneste "a family company" cooperating for over 70 years with many spinners worldwide through a wide network of agents and distributors which we are very regularly visiting. Thanks to their support and info we can continuously adapt, adopt and improve our flax fibers and service.